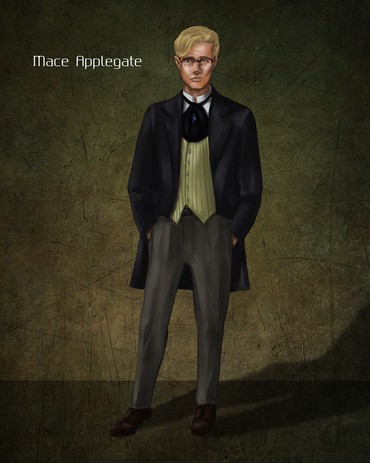 | | |
| --- | --- |
| Age | 36 |
| Gender | male |
| Height | 5'7 feet - 170.18 centimeters |
| Title | Employee of the Corporation - Programming genius of Genesis Foundation |
| Homeworld | Dol'Arem |
| Society | Federate Corporation |
| Affiliation | Sister Company Genesis Foundation |
Mace is a hard-working employee of the Sister Company Genesis Foundation. He created the new defense grid program, which is more advanced than any currently utilized within occupied space. His talent at writing program code is far superior to those around him. Mace is naive to the greater workings of the Free Worlds because he's spent his life living by the Federate Policy and Procedures Handbook without educating himself on the inner workings of relations station politics and life. His long hours behind a computer screen have made it more difficult for him to read a situation or understand people's true motivations. Mace learns from hard examples and life experiences. He is quick to adapt during times of stress.
Things change rapidly for Mace when his wife gives him news that jeopardizes both their employments with Genesis Foundation. Life in the Corporation is unforgiving. Everyone is an employee first and must follow guidelines to the letter.
Personality
Mace is burnt out. He's spent the last two years dedicating fourteen-hour workdays to the defense grid project, and witnessing how higher grade level employees treat people at his level and below has made him second guess his place within the Corporation. Mace is typically more intelligent than the people around him at any given time. He's a gifted mind that battles his inner demons in a constant tug of war against himself. Recent events within the story cause his entire world to turn upside down, and he's exposed to the dark underground of society.
She doesn't have to talk any louder. She's our CFO. When she speaks, everyone stops what they're doing to listen.

Mace
Appearances to date
Free Worlds of Humanity - Book 1

Free Worlds of Humanity 1.5 - Short Stories from the Free Worlds (mentioned)