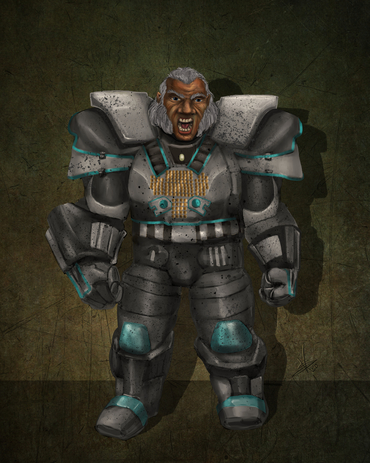 Age
70
Gender
Male
Height
4'9 feet – 144.78 centimeters
Title
Supreme General
Iron Fist of Kora
Homeworld
Kora
Society
Dolrinion Offensive
Affiliation
Force Command First Ones
Supreme General Sharrar, the center seat representative for the Offensive, is one of their society's angriest, quick-tempered Dolrinions. His demeanor is uncommon for the Force Command he belongs to. Sentinels of First Ones are historically counted among the wisest teachers and think through technical logic, even though they are still Dolrinion and wouldn't hesitate to fight. Sharrar is the complete opposite and has a reputation among all Dolrinions for choosing his fist over words.
He's killed so many enemies that his chest plate is full of emblems without room for more. The supreme general is not counted as one of the smartest or best inside the Capitol Forum, but all respect him.
Sharrar is a true believer of Dolrinion society, the memory stone, and disciplined order. Being a supreme general of Force Command First Ones and the center seat representative for the Offensive gives him a level of power higher than others who share his title among the supremes of their Commands.
The supreme general's battle armor is custom-fitted for him through members of the Engineering Corp within First Ones. His right gauntlet has its own power source, which amplifies his punches with an unmatched force by those without techno armor. In combat, Sharrar has killed enemies with one punch.
"You always find fancy ways to say things, Henry. Half of the time, when you speak, it comes across as an insult. Don't trifle with me."

Supreme General Sharrar, Iron Fist of Kora
Personality
Supreme General Sharrar is stubborn and can explode into an uncontrolled rage with the snap of a finger. His own children have trouble dealing with him, and fellow supreme generals of Force Command FIrst Ones respect him for his lifetime of accomplishments. Sharrar is willing to commit to the massive sacrifice of life for appearances which was evident by the Invasion of Gliese. The Iron Fist of Kora despises Federate Corporation employees so blindly that it affects his ability to reason.
"You smell of Federate filth. Did you enjoy your meeting with the Corporation scum?"

Center Seat Representative Sharrar
Appearances to date
Free Worlds of Humanity - Book 1